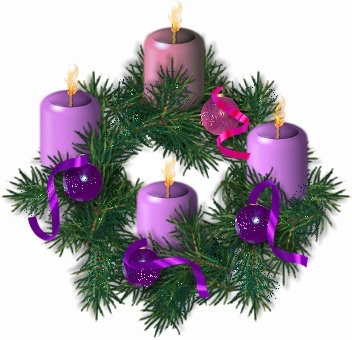 Over Thanksgiving, I gathered up the Christmas ornaments I had left at my parents' house, and my mom also sent me home with some of my grandmother's. So Keith and I are ready to decorate our first Christmas tree. I'm really hoping that we get one before the end of the week. My family always set up trees late--sometimes not til Christmas Eve--and kept it up a while afterwards; but since Keith and I won't be here over Christmas or New Year's, we'd like to decorate early so we can enjoy it during Advent.
I love the idea of entering fully into the Liturgical year at home through family traditions and decorations, and my wish list for Advent is growing: an Advent wreath and candles, a Jesse tree, a manger that waits for the Christ Child under the tree. But I'm realizing these will be things that Keith and I gather year by year (especially things like the Jess tree, which can wait until we have kids).
One thing we do have is a Nativity set. When I was confirmed I received a lot of
Fontanini
figurines, and although my collection is a bit lopsided (I have one wise man, unless you count the giant Balthazar that stands a good two inches taller than all the other people), I remembered to pack it up and bring it back down with us last week. (I remember religious stores used to have
crazy
displays for these, on par with those railroads some people set up in their basements. The entire city of Bethlehem, buildings and hills populated by people and animals, and off in a quiet corner--the stable.)
So farI've just set up the stable, the (empty) manger, and Mary and Joseph. This was because I felt lazy at the time, but I've decided to add the figurines one at a time, as a sort of Advent calendar. (I tried to take a picture, but it seems my camera has finally gasped its last.) Keith pointed out that yes, Jesus isn't here yet; but technically, neither are Mary and Joseph, so they shouldn't be in the stable either. I suppose I could have them travel around the room with a donkey until they reach the stable on Christmas Eve. But ... no. I won't. :-P
And as we are, of course, awaiting the arrival of our own little baby (although not until well after Christmas!), it adds something extra special to this Advent. Caitlin called me out in my last post--we got our ultrasound yesterday, which means we now know the gender! I'm happy to inform you all that we are having a little boy!
It's something of an adjustment, actually, because we've been thinking of the baby as a girl and calling him "she" for a while now! It means I have to save the pretty baby sweater patterns I've been looking at for a later pregnancy ... and now start gathering handsome ones. :) But we are pretty thrilled!