My friend
Christine
tagged me for a Liebster Award! She came up with some pretty cool questions, I think. :)
1. What's one thing you do really well?
As anyone who's read more than two posts on my blog will know, I am a little obsessed with knitting. And I think I do pretty well! I'd like to knit sweaters, which means getting a handle on gauge--something I ignore whenever possible. Not a very "good knitter" thing to do.
I love knitting lace and knit shawls for myself and my bridesmaids for my wedding. (Although I let myself be bossed by the photographer and my bridesmaids wore their shawls draped down so you couldn't see the design, because it "looked better." Sigh.)
wedding shawl
2. What's your favorite blog post you've written?
I feel like it was an accomplishment just getting the
twins' birth story
written! And it's been my most popular post over time. My favorite kinds of posts are those that reflect on something I've been mulling over in relation to my life, like
this one
... it takes a little more effort to write those posts, and I feel like if I don't capture them freshly my thoughts feel stale when I try to write them. So I don't finish those posts as often as I'd like, lately. They languish in notes or draft folders.
3. What is one blog post or article by another writer that has stuck with you for a long time?
Oh goodness, that's a tough question for me. I find that the posts on
this blog
always resonate, especially for where I'm at right now in life. And
this post
meant a lot too.
4. Are you a "cat person" or a "dog person"?

Definitely a dog person. I have met some cats that I like as individuals, and I think they are lovely creatures aesthetically. But as a species, I find that they simply don't love you the same way dogs do.
scholarly schnauzer
Also, cats shed. I grew up with a miniature schnauzer, who didn't. Keith wants a big dog who can run around outside with him and the boys, but they shed too, plus I find them to be kind of dopey. (He said, I love them because they're like the dog in Up. I said, I DON'T like them because they're like the dog in Up!)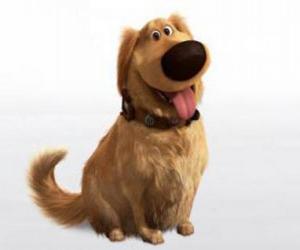 I *do* like Doug, I just don't want him living in my house.
Terriers--including schnauzers--are smart as tacks with a whole lot of personality, and I like that.
Now that I've probably insulted all pet owners except those who have schnauzers ... let's move on. ;)
5. How well do you get along with your siblings?
With my paternal grandparents
I was sometimes I bossy older sister, he was sometimes an annoying younger brother ... but we were always good friends and played together a lot.
We don't get to hang out much lately because he's busy with work and school but everyone's happy when we get to see Uncle Anthony! :)
6. Do you subscribe to any publications?
I recently renewed my subscriptions to
One Story
and
Image Journal
. I have a free subscription to
Dappled Things
since I am an editor there, but would definitely pay for it otherwise. We also get
Interweave Knits
,
Bon Appetit
, and
The Atlantic
.
7. If your house was on fire, and you had time to grab ONE object to save (assume all other people and pets are already out safely), what would it be?

This is a hard one! In the past I would have said my laptop, as it was home to all my writing, but that laptop is now broken and truthfully I'm not sure. Maybe our image of Our Lady of Guadalupe? If I had to escape through the windows of our house I would grab the curtains my great-grandmother embroidered.
8. Are there any kids' toys that you suspect you might enjoy playing with as much as/more than the kids?

I love Calico Critters! They remind me of toys I had growing up called Furry Families; they lived in things like shoes and teapots and jelly jars. And I would love dressing up American Girl dolls, but seeing as we have no girls (yet?), we'll see if that comes to pass!
9. What kind of candy will you be handing out for Halloween?
We don't have any trick-or-treaters on our road, which makes me sad. :( Last year I bought Nerds and M&Ms because I like to eat those. Maybe I'll stock up again this year ... just in case. ;)
10. Have you ever seen or experienced something you suspect was supernatural?
I posted once about my
miraculous experience
with Our Lady of Guadalupe.
I've had several experiences with my guardian angel ... one of the life-saving variety, one where my angel covered my ears to preserve my innocence (seriously), and one where he embraced me when I was at one of the loneliest points of my life. The last was on the feast of the Guardian Angels ... such a beautiful, beautiful feast day!
I've had some moments when I knew I had to pray for people and had it confirmed later ... and I've also had some profound experiences of the Holy Spirit and Jesus in the Eucharist.